A full weekend's round-up from another action packed few days...from Newport to Swansea and Llanelli to Bedford!
WELSH ATHLETICS JUNIOR ATHLETICS CHAMPIONSHIPS - NEWPORT 23-24/06/18
On two consecutive stunning days of summer, around 500 of Wales' top junior athletes enjoyed the sunny and warm conditions at this year's Welsh Athletics Junior Club Championships for the right to be crowned Welsh champion. It returned for another year on a two-day competition in Newport having made its way to North Wales for the 2017 staging at the Queensway Stadium in Wrexham last August.
Newport's Sptty Stadium was the venue this time round and having just a matter of weeks ago hosted the Wales' Women football match against Russia, the location was rapidly transformed back into the athletics layout just in time for the weekend. Welsh Athletics Championships medals were at stake for the top three in each age group and event and more than 100 sets of medals were given out in front of the main stand.
Running on Saturday 23rd June and Sunday 24th June, the event attracted athletes of all ages from a number of different clubs including South, East and West Wales clubs as well as a few that had travelled from the North Wales region. Before the championships began at lunchtime, there was a minutes silence observed in memory of the late David James who passed away last weekend. Dave was a great supporter of Welsh Athletics and Welsh Schools events, and would have been seen at many Dyfed & Afan Nedd Tawe events in particular over the last 10 years as a starter. He will be missed by everyone in the sport.
Open to athletes from all over Wales across five categories, the under 13, under 15, under 17 and under 20 age groups saw a variety of heat, timetrial and final events held, including sprints, middle distance, steeplechase, and walks alongside the throws and jumps in the centre. The races kept on coming thick and fast as the competition heated up.
The Carmarthen club saw 27 members travel the distance eastbound along the M4 motorway up to Newport to take part against the best in the country. Over the weekend, they won a total of 17 medals between them which included 7 gold, 5 silver and 5 bronze positions. Here we report on the day to day results below:
DAY 1 - Saturday 23rd June / Dydd Sadwrn 23ain Mehefin:
First to set off on the track were a series of 1500m timetrials and here we saw the first medals given out. Frances Mackie (5.18.07 PB) and Ifan Bowen (5.10.55 PB) both won under 13 bronze medals thanks to their third fastest times over all heats. In the same girls' event, Amy Greatrick (5.38.50) and Chloe Hale (5.35.83) were in action while in the boys' timetrials, Jake Lynock was 5th (5.20.23 PB) followed by Steffan Davies (5.34.65 PB) and Brynmor Peters.
Moving onto the 100m sprints held on the Saturday, it was a great few hours for Megan Roberts who did not just make the final but also secured a new personal best twice. Having run 13.60 in the semi-final, Roberts won silver in the final by stopping the clock at 13.20 seconds. Her training partner, Sophia-Reid Thomas was a close fourth in a fast heat (14.17). Alicia Samuel in the under 20 women's 100m straight final again performed strongly, clocking 12.25 and adding another gold medal to her collection.
There were two boys running the same distance and in their respective heats, Dion James and Owain-Hari Davies ran new PB's with 14.43 and 14.80. The duo were then in Long Jump action at the far side of the venue, with James adding his second PB of the day with 4.04m while Davies jumped out to 3.83. Later in the afternoon, Dion just missed out on a medal in the under 13 boys high jump, unfortunate on the count back rule. However, there was some good news as Osian Roberts jumped his way to victory with a 1.45 PB clearance.
Under 13 boy shot putter Kacper Krawcewicz was the first of the athletes to get things underway over at the shot circle on Saturday morning and he threw out to 8.39m to win bronze...and equal his best throw so far.
Another to make the final with ease from the heats was Iwan Glynn in the under 17 men's 400m event. Through as the second fastest seed, Glynn ran to form to win a silver medal in the final track event of the first day's action.
Back on the field, the day ended on a good note thanks to two wins over at the triple jump and javelin for U17W & U13G. Having run 48.71 earlier on in the 300m Hurdles, Beca Roberts again jumped over 10 metres to take victory by 25cm from her nearest rival. And finally...it was worth the wait for Cordelia Walker, who not only threw 32.16m and was confirmed as Welsh champion, but also broke a NEW Carmarthen Harriers club record which had stood since 2004. Well done!
DAY 2 - Sunday 24th June / Dydd Sul 24ain Mehefin:
It was all about sprint hurdles, 200m, 300m, 800m and race walks on the track on Super Sunday with competition back underway shortly after 11.00am.
Day 2 saw Rogan Cox head to the start line first to run the 800m (2.36.61 PB) with Amy Greatrick also going in the girls race having run 1500m just 24 hours earlier (2.45.90 PB). Cox was back shortly after contesting the under 13 boys 75m Hurdles final where he came in 6th place (16.16 PB). The win in that race went to a familiar face, Osian Roberts who had taken the high jump title the day before (13.30).
Moving onto the fast racing 800 metres next. There were some great and quick times in particular the under 15 boys. That's where we found three of the Carmarthen boys, Dafydd Jones, Liam Edwards and Frank Morgan racing with all having represented Wales over the cross country season. To their advantage, the trio were put in the same race meaning that they could push each other along! Dafydd came through to win the heat in 2.03.68 PB and claim silver in the process for being the second fastest throughout the four heats. Liam and Frank enjoyed personal best performances too finishing with times of 2.10.42 and 2.13.24 respectively.
Next up on the track was the under 15 girls 800m and by winning the heat in 2.19.15, Daisy Thompson was the latest to get on the podium in third position and as a result a bronze medal. Recording his best time so far in this distance, Iestyn Williams came through to win the under 20 men's 800m final in a time of 1.57.92, the third gold of the day.
200 metres is where we found two of the sprinters in action. Ellie Loweth made it through the heats and semi final into the under 15 girls final, finishing in 27.33. She was also over in the Long Jump earlier in the day with a 4.13m jump. The opening day was a good one for U13 Megan Roberts but it would continue into the second day too. Having run 13.20 in the 100m on Saturday, she then went on to run a 27.35 PB in the semi final before winning her second medal of these championships in bronze with 27.64. A familiar face on the athletics circuit Christian Malcolm also stopped to have a photograph with Roberts following the race.
Over in a full field programme, there was further success to report on. Lili Church was the first to take centre stage in the under 17 women's High Jump competition and by jumping consistently this summer at 1.55m, she was rewarded with an equal gold performance. Meanwhile, Lauryn Davey in the under 20 High Jump and Long Jump competitions took away silver in both her disciplines. First off was a clearance of 1.50m over in the high then followed up by a PB of 5.18m in the sand. Finally, Scott Davies threw a lifetime best of 9.96m in the under 17 men's shot put in another good performance.
So...onto the 2018 stats in total...27 athletes, 17 medals, 24 personal bests, 2 equal PB's and 1 Club Record.
Well done to them all and the others who competed over the weekend and thanks to the coaches and parents for your support and for taking them. Also, we can't forget to say a big thanks to all the officials, organisers and volunteers who supported the championships on both days in front of and behind the scenes.
CLICK HERE for the results which was updated live throughout the weekend's meeting as it happened.
JCP SWANSEA HALF MARATHON 24/06/18
The 5th edition of the JCP Swansea Half Marathon, taking a new route this year, attracted just under 5,000 athletes of all ages and abilities as they took to the streets of the city centre and beyond on Sunday morning 24th June. The half marathon, beginning outside the Brangwyn Hall took runners into the city centre before heading down the main road to Oystermouth Square. Near half way, runners then headed back along the promenade, the ideal opportunity to take in some breath-taking views of the Bay on a perfect day as they returned. After crossing the SA1 bridge down the Marina, there was then a grand stand finish near the Museum Green where friends and family were waiting as well as post-race entertainment and stalls.
The day was not only about the half marathon where wheelchair athletes were also involved, there was the chance for the younger generation to take part too in the Family dash mile race starting at the Castle Gardens grounds. It was great to see so many having a go and enjoying running!
It was certainly one of the warmest events ever recorded with temperatures hitting around 20C throughout, but conditions on the morning were perfect to see some fast running on a relatively flat course. Not one, but TWO course records were confirmed on Sunday in the 2018 running of the event. Having increased the pace from the 10k point, Cardiff AAC's Matt Clowes never looked back and stretched away to take the men's title and in the process, breaking the course record set by Dewi Griffiths by only 6 seconds. Clowes' time of 64:42 was a one and a half minutes quicker than his nearest opponents. While not running this time round, Griffiths was in attendance cheering on those running for their clubs and several charities.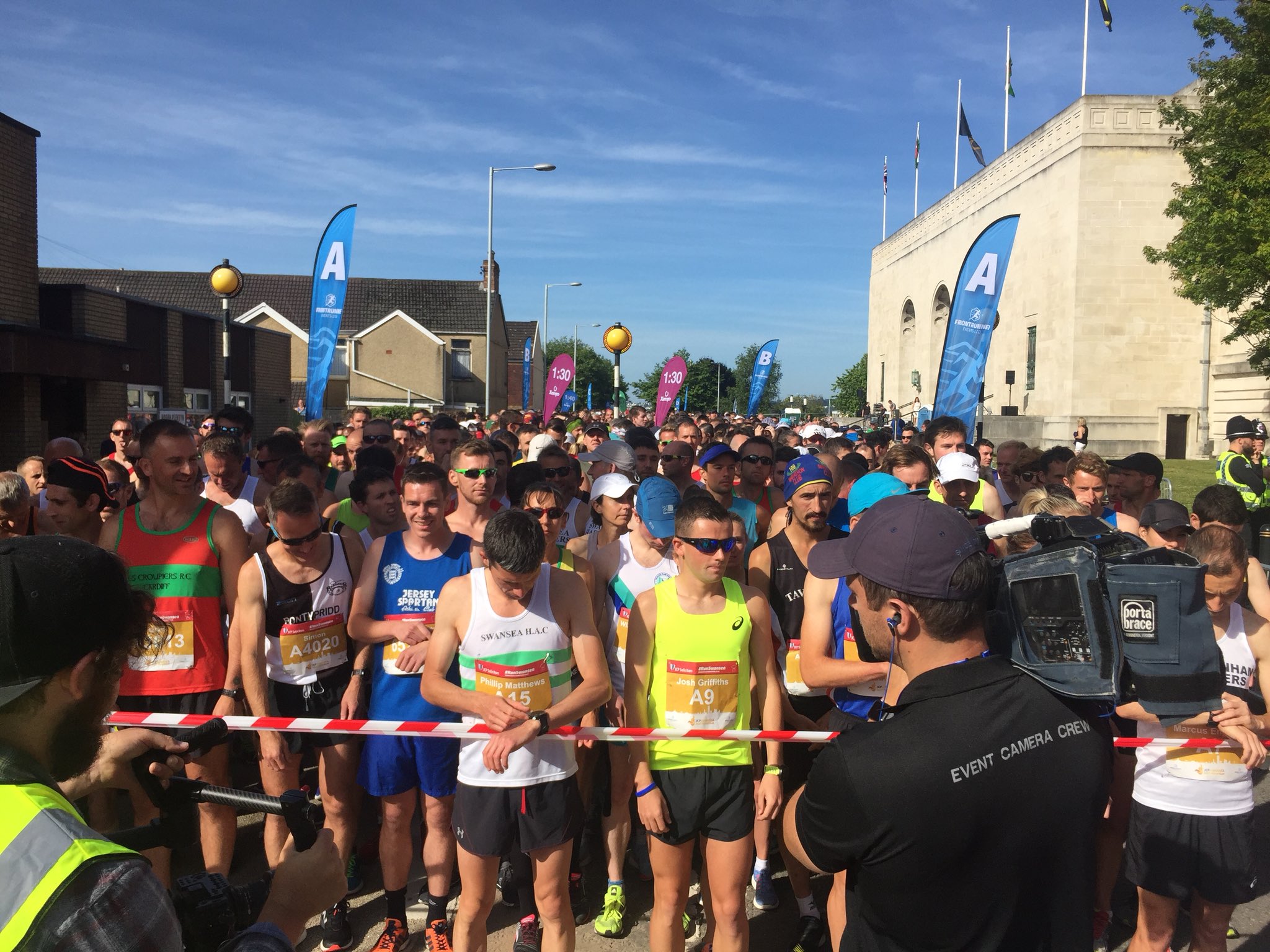 Following on from his Welsh selection out in Australia for the Gold Coast Commonwealth Games Marathon back in August, Josh Griffiths was back on familiar home territory and the former Carmarthen Harrier came through to take second spot in his hometown club Swansea in 66:09. Griffiths' teammate Phil Matthews was another to run well in the sweltering conditions to claim a clear third overall (69:35).
Meanwhile, it was Thames Valley Harriers' Tracy Barlow who was victorious in the women's competition, also recording a new event course record of 73:51. She was followed on conclusion of the race by Laura Graham (75:56) from Mourne AC and Gladys Ganiel (77:21) representing North Belfast Harriers, in Ireland. The wheelchair title was awarded to Richie Powell (62:04) who was the first to cross the line before thousands came behind him.
CARMARTHEN HARRIERS: There were plenty of our senior athletes out in amongst the 5,000 participants performing excellently in difficult weather conditions. Wendy Price was the first to finish in an impressive 1:30:51 and 5th in her F35 category! The other athletes to have completed the JCP Swansea Half Marathon were: Vince Bailey 1:34:16; Huw Davies 1:35:52; Kayleigh Bagshaw 1:45:41; Eurig James 1:50:38; Paul Lynock 1:48:14; Dave Holland 1:56:45: Hayley John 2:18:02; Claire Price 2:25:08; Briony Chambers 2:33:58 and Miranda Bowen 2:39:57. Llongyfarchiadau i chi gyd!
Congratulations too to Lisa Forest and Dafydd Bowen for completing the Cardiff Distance Triathlon earlier this morning (Sunday). A difficult course of 1500m bay swim, 40km bike and 10k run in the warmth!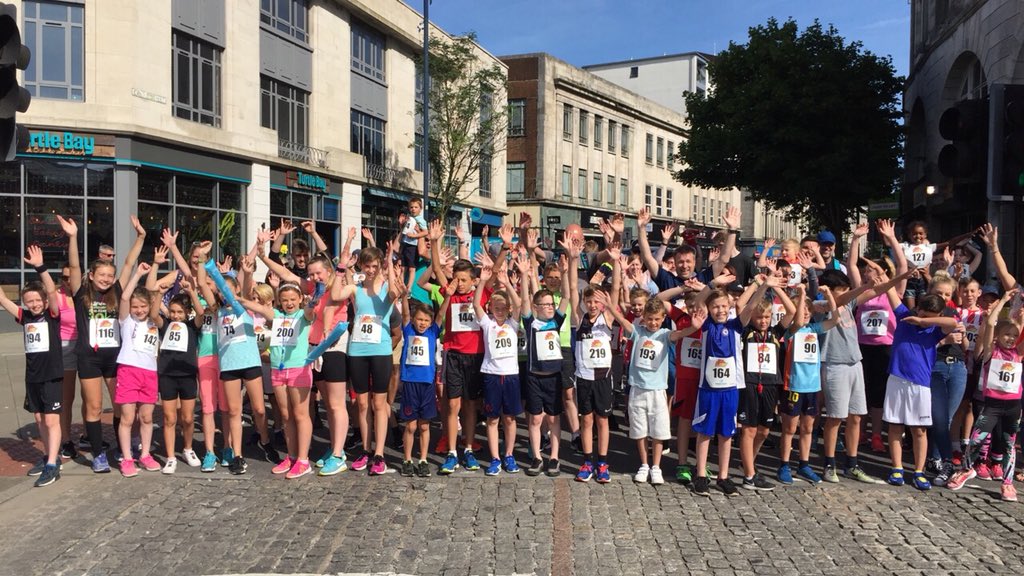 SOSPAN ROAD RUNNERS 10K RACE - LLANELLI 23/06/18
At 11.00am on Saturday morning 23rd June, over 200 runners descended on the beautiful cycle path near Burry Port in Llanelli for the annual Sospan Road Runners 10K Race with the course situated along the front taking in some excellent views of the Gower. The duo of David Kennan (35:15) and Mark Harrison (36:43) made home advantage count as the Llanelli AC athletes took first and second respectively. Joining them in the top three was Aberystwyth AC's Gary Davies finishing in 37:17.
In the women's, it was a victory for Amman Valley Harriers and Sioned Howells who took the overall title in 41:12 and was followed across the line by Sarn Helen's Caryl Davies (42:51) and Isobel Dawson (46:03) from the TROTS club down in St Clears. With 232 finishing in total, there was a great atmosphere all round and as the sole Carmarthen Harriers competitor, Joanne Bowes enjoyed a fine run to claim the F45 age group in a time of 46 minutes 18 seconds.
IN OTHER EXTRA NEWS / NEWYDDION YCHWANEGOL:
ENGLAND ATHLETICS U20/23 CHAMPIONSHIPS - BEDFORD
Having already broken the club record and produced an European qualifying standard at SportCity and Milton Keynes BMC Grand Prix meetings of sub 6.05 over recent weeks, Ben Thomas ran another great race to win the U18 2000m Steeplechase race at Bedford last Sunday in 5:59.
Earlier on Friday, he found out that he had been selected to win his first GB vest at the upcoming U18 European Championships in Hungary to be held between 5-8 July.. Good Luck/Pob Lwc!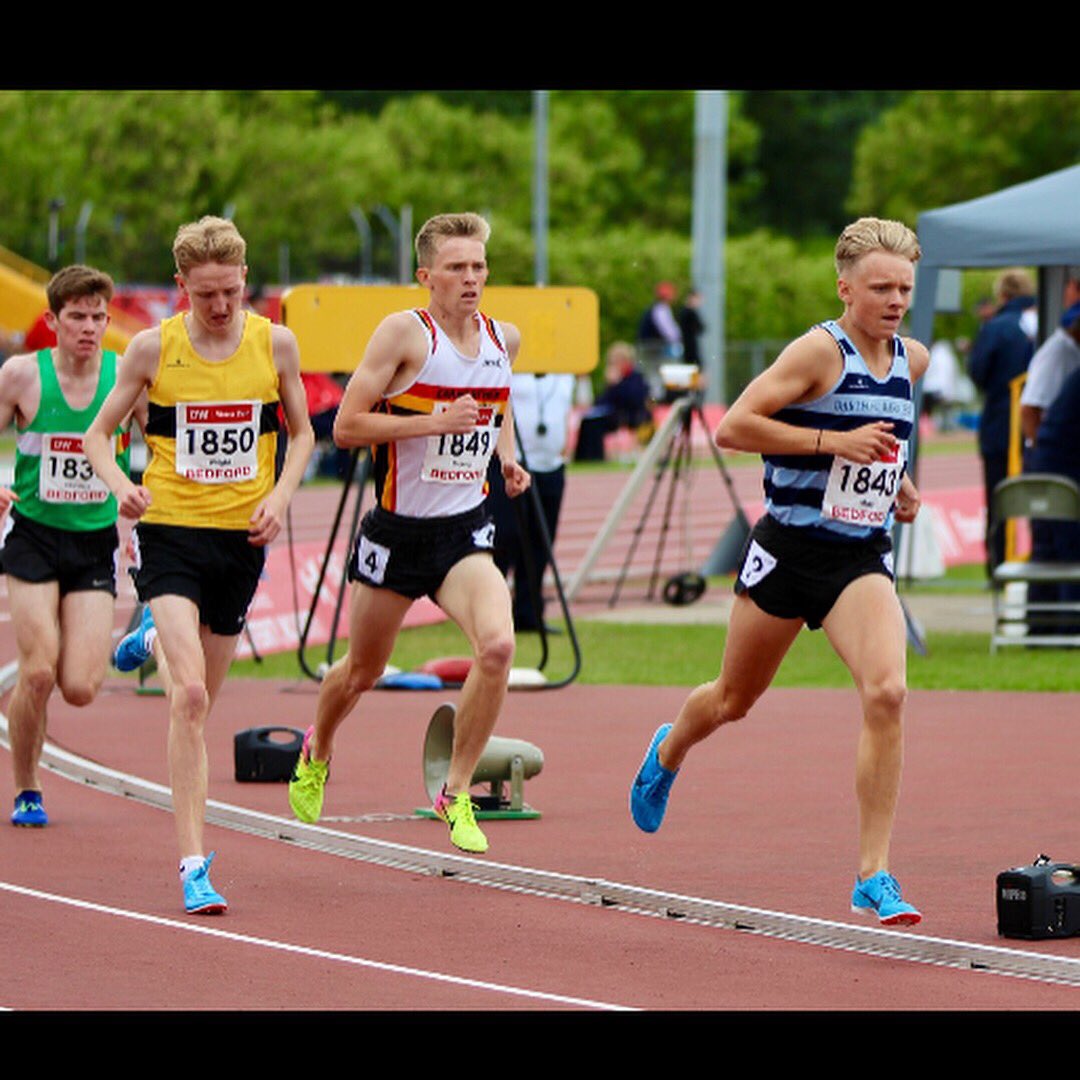 WELSH ATHLETICS RUNWITHTHEWIND OPEN SPRINTS MEETING - CARDIFF 20/06/18
After a busy day of NASUWT Schools Cup Matches at Carmarthen and Swansea, the late night athletics headed to Cardiff International Sports Stadium last Wednesday evening 20th June for the second instalment of the Welsh Athletics RunWithTheWind Meeting. Glen Elsdon and Rhun Edwards were the club representatives there with their results: Elsdon - 100m (11:09) 200m (22:30) and Edwards - 100m (12.34) and 200m (25:10)