BRIANNE SCHOOLS CROSS COUNTRY LEAGUE - FRIDAY 9TH
Just 48 hours after the Welsh Schools National Cross Country Championships in Brecon where runners were representing the Dyfed district, it was back to local action last Friday (9th March) as the re-arranged third Brianne Schools Cross Country League took place for the second time on the grounds of Llandovery College. This followed on from the first two held at Dyffryn Taf and Bro Myrddin last October and November.
The Llandovery fixture was planned for the 27th February but had to be pushed back due to the adverse weather conditions that week, resulting in the cancellation and postponement of at least five club and school events in Carmarthenshire and Wales.
Pupils in years 7, 8, 9 and 10 from Ysgol Dyffryn Aman, Ysgol Maes Y Gwendraeth, Ysgol Bro Dinefwr, Ysgol Bro Myrddin, Queen Elizabeth School and Llandovery College made the journey up the A40 and ran in the wind and rain as the league passed the half way point in the season.
In a round up of the third event, the QE High duo Keira Carmody and Amy Greatrick continue to lead the way in the year 7 girls in first and second. Fellow Harriers Sophia-Reid Thomas (Bro Myrddin); Milly John (Bro Myrddin) and Megan Roberts (Maes Y Gwendraeth) occupied the next three positions.
QE High's Jack Thomas keeps up his 100% winning streak with another win to ensure that the school look on to secure a double win in the year 7 age group. Sion Davies (Dyffryn Aman) improved on his fourth place last time out to come in runner up spot followed by Bro Myrddin's Zach Elvy.
Wins in the year 8 age group went to Awen Roberts (Maes Y Gwendraeth) and Ioan Cressey-Rodgers (Bro Myrddin) who now leads the overall individual points table. Amber McIsaac (QE High) and Caitlin Jones (Maes Y Gwendraeth) were second and third in the year 8 girls while in the corresponding age group, Scott Price (Bro Dinefwr) and Iago Williams (Maes Y Gwendraeth) produced good performances.
In the combined year 9 and 10 categories, Tanwen Moon matched Roberts' performance for the Cefneithin school in first ahead of Siwan Jones-Evans (Bro Dinefwr) and Kasia Cook (Llandovery College). It's all change in the boys, where Jack Kluge (QE High) was the first across the line. Nico Sofiu (Dyffryn Aman) led the Ammanford schools' team to score well. Archie Hughes finished third on home turf.
Match scores after 3 of 4... 1 Maes Y Gwendraeth (1,962pts); 2 Dyffryn Aman (1,843pts); 3 QE High (1,767pts); 4 Bro Myrddin (1,666pts); 5 Bro Dinefwr (1,495pts); 6 Dyffryn Taf (1,331pts); 7 Llandovery College (884pts)
The Brianne Schools League is featured this year in the local newspapers (Journal & Herald). Match number 4 and the conclusion of the 2017/18 will head to Ammanford's Recreation Rugby Ground hosted by the local school up the road, Dyffryn Aman, with a date TBC - likely to take place after the Easter holidays.
FULL RESULTS / CANLYNIADAU LLAWN - Llandovery 09/03/18
UK INTER COUNTIES CROSS COUNTRY CHAMPIONSHIPS - SATURDAY 10TH
The 2018 British Athletics Inter-Counties Cross Country Championships incorporating the UK Cross Challenge Final returned to the setting of Prestwold Hall, Loughborough on Saturday (10th March), as Phoebe Law (Surrey) and Mahamed Mahamed (Hampshire) took the respective senior women's and men's titles.
Described by some of the athletes themselves and spectators, it was the worst cross country conditions they had every come across having been competing in the sport for a long time! Following overnight heavy rain in the Midlands, the course had broken up badly even before the race programme had begun and by the time the senior men kicked off at 2.40pm, there was no grass to see on the route.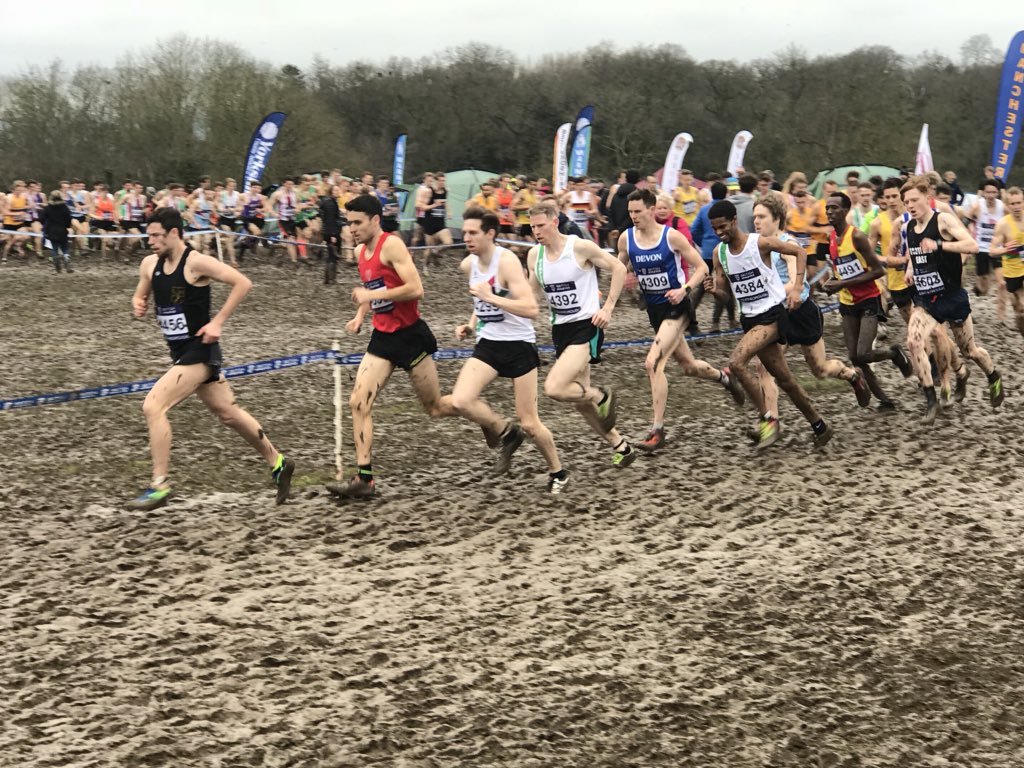 It attracted hundreds of novice and elite runners as the cross country season comes to a close for 2017/18. Having been held in Birmingham over the years and streamed annually on Sky Sports, the event made its move last to Leicestershire and headed back there following it's success in 2017.
Every county across the United Kingdom were invited to enter teams, resulting in large fields of over 170 at least in every race for under 13, under 15, under 17, under 20 and senior athletes.
It also incorporated the final of five British Athletics Cross Challenge series finale having been to Cardiff, Milton Keynes, Liverpool and Antrim over the past five months. The challenge gave up and coming athletes the opportunities to match themselves against established cross country stars with competitive fields catering for all age groups.
The action got underway at 11am with the under 20 men's race and concluded with the senior men, which saw the most runners take to the start line (284 finishers). In the middle of a busy fixture schedule and a few days after Welsh schools, only a small number of around 30 West Wales club athletes made the journey up to Loughborough to compete, however each one performed brilliantly in terrible underfoot conditions. Pembrokeshire Harriers, Carmarthen Harriers, Neath Harriers, Run4All, Swansea Harriers and Llanelli AC were all represented.
In particular for many of the youngsters, it was a great learning curve and a valuable opportunity taken to test themselves against the best runners the same ages as them in whole of the UK. Full Finishing positions and times below:
Under 13 Girls: 159 Maddison Hines (16:35); 171 Mai Davies (16:46); 239 Amy Tucker (17:40); 249 Gracie Griffiths (17:50); 255 Bethan Adams (17:54); 295 Abbie Hall (18:58) team 39th
Under 13 Boys: 134 James Price (14:20); 187 Scott Price (14:42); 250 Aled Tumelty (15:13); 271 Finlay Catling (15:35); 287 Jack Thomas (15:48); 290 Rhys Llewellyn (15:54); 295 Benjamin Sullivan (16:16) team 40th
Under 15 Girls: 283 Cathryn Morgan (24:54); 304 Megan Poupard (28:53)
Under 15 Boys: 30 Finley Hines (19:05); 39 Adam Beer (19:11); 69 Iori Humphreys (19:38)
Under 17 Women: 231 Sioned Wallwork (29:25); 267 Rhiannon Phillips (32:27); 269 Carys Jones (32:38)
Under 17 Men: 252 Callum Campion (26:51)
Under 20 Men & Women: No athletes
Senior Women: 148 Helen Marshall (40:30); 183 Wendy Price (41:43); 240 Abigail Goodrick-Latham (44:05); 265 Cara-Leanne Farley (47:57); 270 Alice Sullivan (55:59)
Senior Men: No athletes
FULL RESULTS / CANLYNIADAU LLAWN - Loughborough 10/03/18
WELSH SPORTSHALL ATHLETICS FINAL - CWMBRAN - SUNDAY 11TH
Back closer to home and four days following the cross country edition at Brecon, school districts headed to the Cwmbran Stadium Sports Centre for the 2018 Welsh Sportshall Final for under 13 (year 7 & 8) and under 15 (year 9 & 10) athletes. This closed the indoor sportshall season after a number of events held across the country since last September.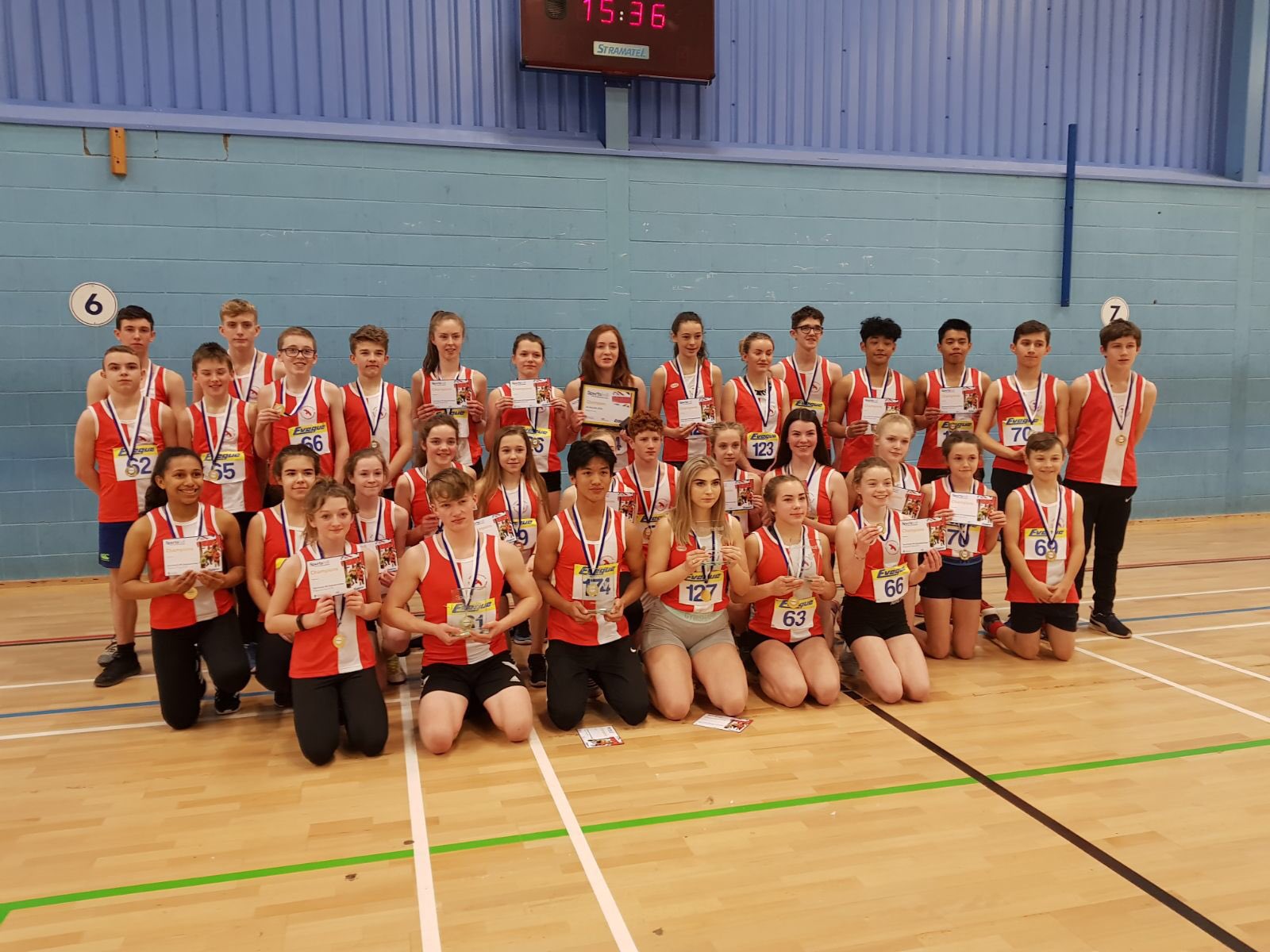 The event was the culmination of a series of regional qualifiers held across the eight school districts since the end of last year and the beginning of the new one. It provided a great vehicle for both talent identification and for providing young athletes with a fun, safe and exciting introduction to competitive athletics. The event in South East Wales saw teams from Powys, Dyfed, Afan Nedd Tawe, Cardiff & Vale, North West Wales and Glamorgan Valleys battle it out for UK final spots. The final featured team competitions at both under 13 and under 15 with the under 15's also contesting an individual competition (based on a points system similar to mutli event competition.)
The age group races completed throughout the afternoon included: Obstacle Relay, 2 Lap Race, 4 Lap Race, 6 Lap Race, 8 Lap Paarlauf, 4 x 1 Relay, 4 x 2 Relay, Vertical Jump, Shot, Speed Bounce, Standing Long Jump and Standing Triple Jump.
It turned out to be a competition dominated by the Powys region, who ended up winning the team event of all four age group, which guarantees their place at the UK final. No doubt they are now looking forward to making the trip on the coach up to the North of England in a few weeks' time.
The winning four teams now advance to the UK final in Manchester on the 14th and 15th of April, accompanied by the two U15 individual winners who get the chance to contest the individual competition which runs alongside the team event.
Dyfed schools attended the event with teams chosen based on results from the Carmarthenshire Secondary Schools Y7/Y8/Y9/Y10 Sportshall Athletics events held at Carmarthen Leisure Centre in November and January. Unfortunately, a few drop outs before the day resulted in a depleted team attending this year, but what was lacked in quantity was made up with the quality as the athletes performed well as a team, some giving new events a try. The teams were placed in third twice, winning bronze medals as well as fifth and sixth. Szymon Mulica was third in the all rounder competition.
Dyfed Teams:
Under 13 Girls (3rd): Bethan Adams (Strade); Amy Tucker (St John Lloyd); Chloe Simmonite (Coedcae); Hannah Forkuoh (Coedcae); Jessica Lee (Dyffryn Taf); Scarlett MacKenzie-Jones (Bro Myrddin); Amelia Dowber (Bro Myrddin); Josephine Wilks (St John Lloyd); Amy Hughes (QE High); Thaia Davies (Bro Dinefwr)
Under 13 Boys (6th): Sion Davies (Dyffryn Aman)
Under 15 Girls (5th): Ellie Loweth (QE High); Cara Morris (Bro Myrddin); Elinor Thomas (Strade)
Under 15 Boys (3rd): Sam Bird (Bryngwyn); Ben Edwards (Dyffryn Aman); Szymon Mulica (St John Lloyd); Louis Rees (Llandovery College); Christian Taran (St Michaels)
FULL RESULTS / CANLYNIADAU LLAWN - Cwmbran 11.03.18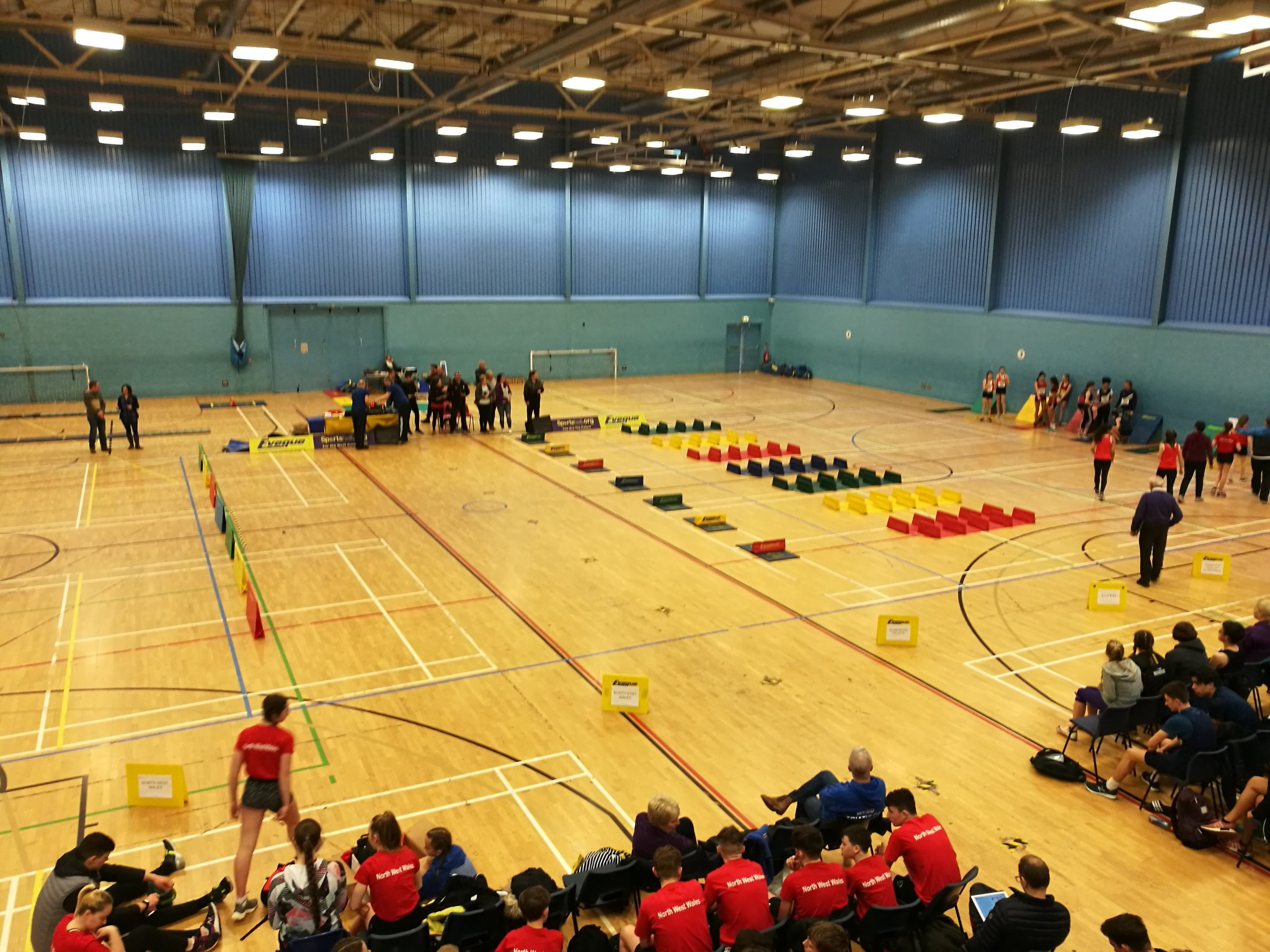 Schools (excluding the SIAB and fourth Brianne Schools Cross Country League in April) now have a break before the track and field season gets underway. The Dyfed Secondary Schools Relays, Dyfed Schools Area Events and Primary Schools Championships will begin on 25th April and is set to be a bumper summer once again in 2018 with a number of competitions coming up for all age groups. All the information will be published on www.carmarthenharriers.co.uk as the dates draw nearer...