| | | | |
| --- | --- | --- | --- |
| Welsh Road Relay delivers in Carmarthenshire...as Dewi & Josh help team to fine win! | | | |
Written by Nathan Jones
Sunday, 17 September 2017 18:57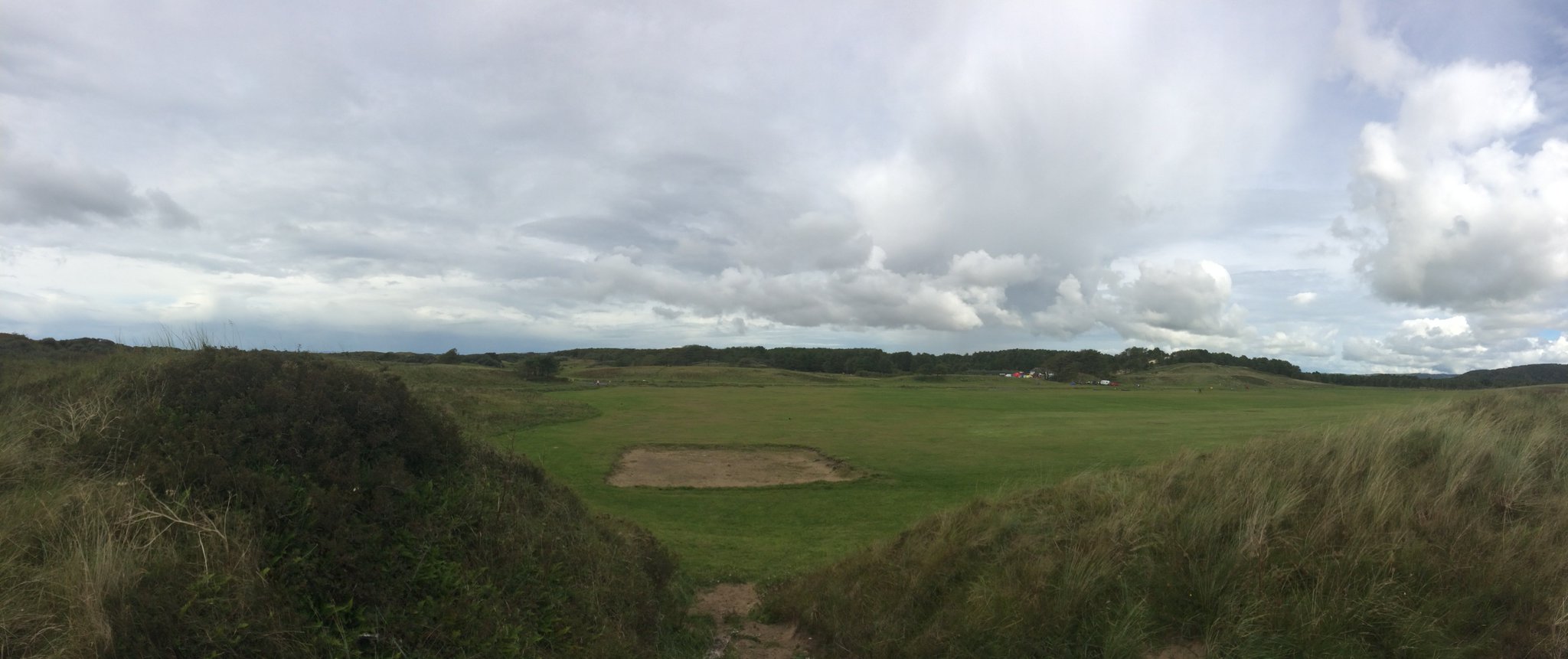 More Social Media & Pictures / Mwy o Luniau a Tudalennau Cymdeithasol
The Welsh Road Relay Championships came to Carmarthenshire for the first time ever as Pembrey Country Park hosted this popular fixture in the annual calendar.
Elite Welsh and club road runners headed for one of Carmarthenshire's most popular open spaces over the weekend (September 16th). It was hailed as a great opportunity to showcase the county's athletic talent against Wales' best. The event provided the chance for both established and up and coming endurance runners in Wales to compete against each other in a competitive team format. Races included a primary school challenge, full junior programme, men's, women's and veteran's races - with more than 20 clubs and over 150 teams entered in time of the closing date at the start of the month.
The races acted as a preparation for clubs that will be contesting the British Road Relay Championships (formerly ERRA National Road Relay Championships) in early October. (8th)
The park situated near Llanelli provided a stunning backdrop for the event which has utilised several venues in recent years. In a change for 2017, the Championships moved from their usual date in March because of a particularly congested Sprint calendar in 2017.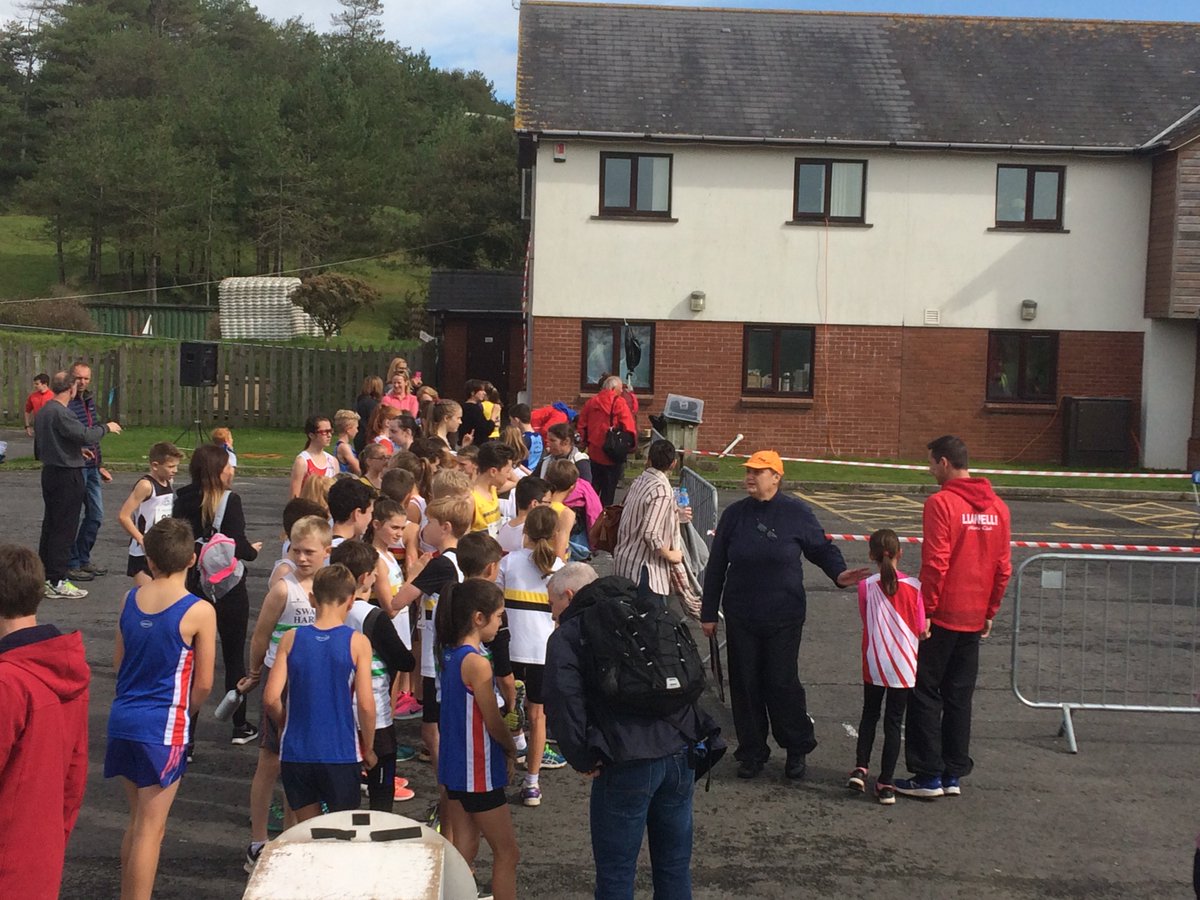 Pembrey Country Park has been transformed into one of Wales' top visitor attractions providing a unique blend of coast and countryside, with eight-miles of golden sands and comprises acres of grassland and woodland adjacent to Cefn Sidan Beach. Also, there's a spectacular backdrop of the Gower overlooking the coastal scenery of Carmarthen Bay.
Previously it has been held over the years at Llandow and Pontypridd, with a change this year when it arrived in West Wales. The event at Pembrey Country Park near Llanelli was organised by Welsh Athletics and Carmarthenshire County Council, in conjunction with the local club Carmarthen Harriers.
Presentations were made to the top three teams as well as the individual winner of each category. They were presented throughout the day by athletes Dewi Griffiths and Josh Griffiths, Hedydd Davies Chairman of Carmarthen Harriers, Kevin Evans President of Carmarthen Harriers, Graham Finlayson Race Referee as well as club coach Neil Thomas and the Head of Operations at Welsh Athletics, James Williams.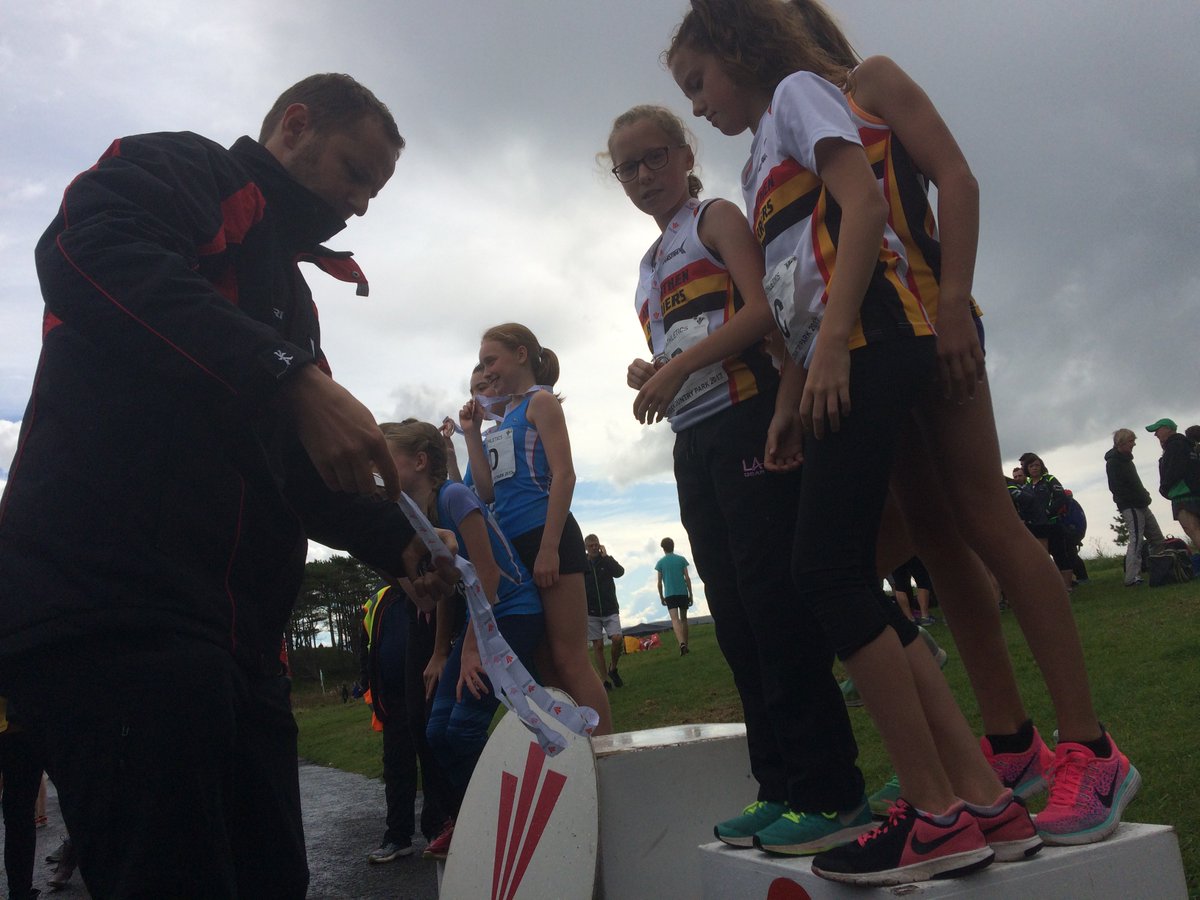 The course took runners on a scenic and traffic free route around Pembrey Country Park. It was designed so that runners only needed to complete one loop each before handing over to a team member. There was a core loop of 2,500m, with an extension increasing the distance for the older age groups.
It turned out to be a rather showery early morning in Pembrey, before the conditions improved in time for the start of the races. Despite a quick passing shower in the middle of the afternoon, it stayed mostly dry for the majority of the day and with light winds, it was the perfect opportunity to record quick times and promising performances.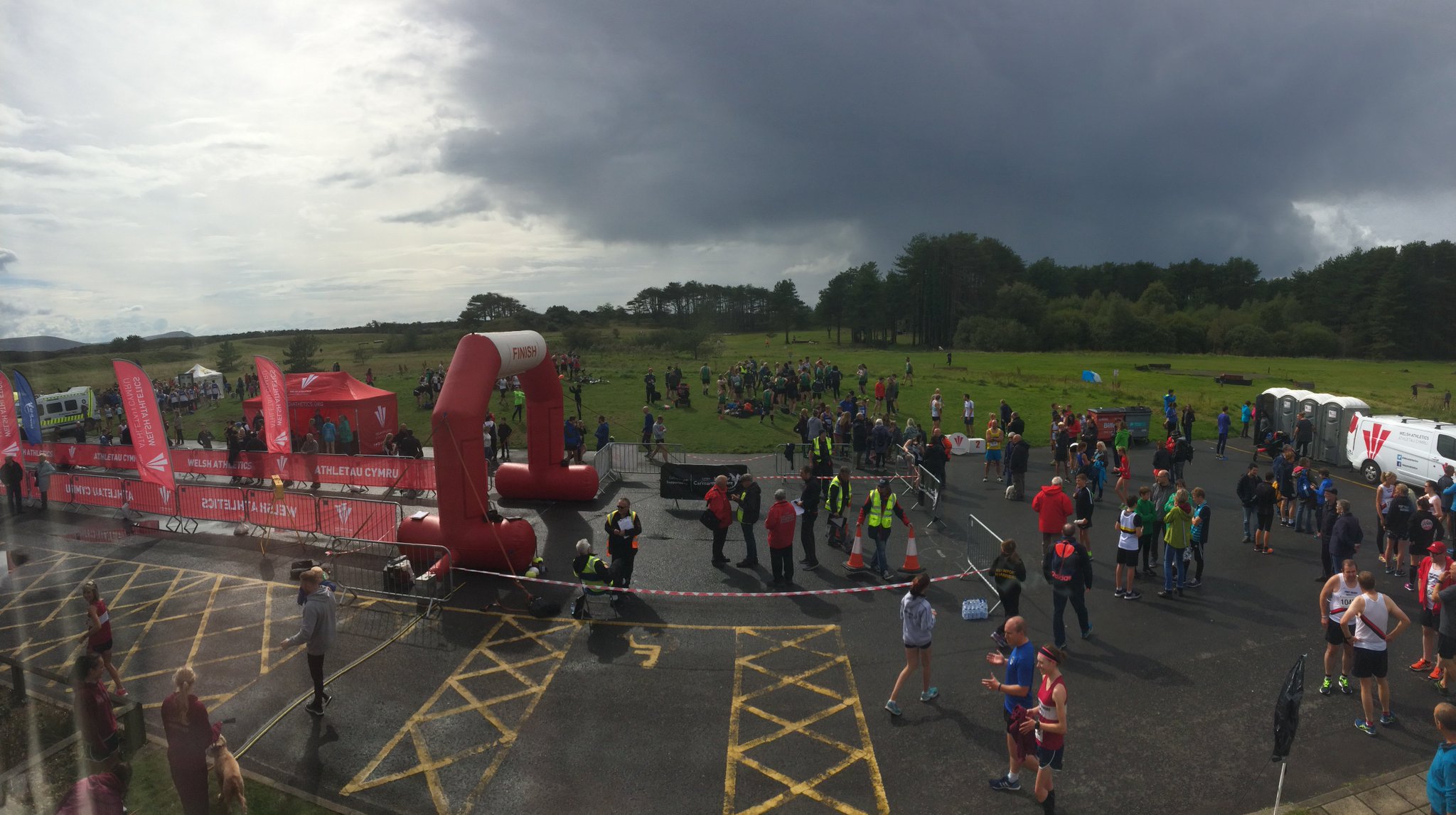 Carmarthen Harriers - the host and local club led by team manager Hedydd Davies and Cressy Morgan - did very well winning a total of 23 medals (8 gold and 15 silver medals) Many were making their first debuts of road running and will be looking forward to progress as the season goes on.
The day's programme got underway with two primary school challenge races with the boys setting off at 11.30am. It was a one-two for the club as Iwan Thomas claimed the win with a time of 5:40 just in front of his training partner Ifan Bowen in 5.44. They easily took the team title medals thanks to Jake Lynock's fourth position (6:08). With eight boys taking part in this age group, the team also finished in second - scoring for the B team were 5 Liam Upton-Boorman (6:10) 7 Tygan Davies (6:14) and 10 Alexander Coles (6:29). James Sloyan in 11th (6:31) and Aron Bowen in 17th (7:46) also performed well on the road.
In the second race for the girls, Erin Morgan also got on the podium as she finished in runners up place finishing the 1500m in 6:10. Also competing in this age group were Bessy Hill in 5th (6:35) and Ella Glynn in 12th (7:14) ensuring that the team were second.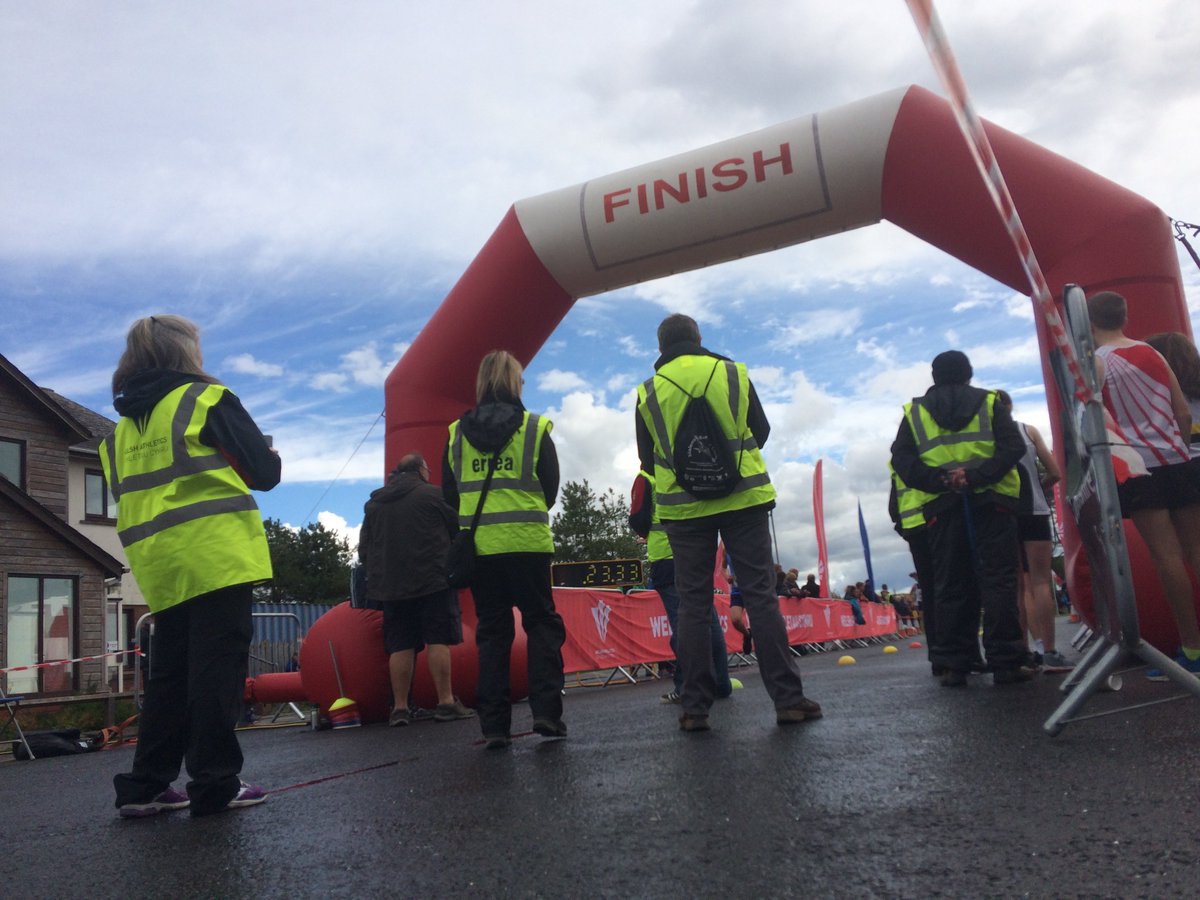 The under 13 boys and under 13 girls all went off together in one race, with a team each wearing the vest of Carmarthen. It was a great team performance from the girls, as they stormed to silver team medals behind Newport Harriers. The quartet consisted of: Faye Jones (10:11) Keira Carmody (10:42) Milly John (10:19) and Amy Greatrick (10:18). Equally, the boys also had good runs, finishing 5th overall: Ioan Cressey-Rodgers (8:59) Steffan Davies (10:45) Brynmor Peters (11:24) and Frank Morgan (8:40) Morgan secured the second fastest leg of the day while Cressey-Rodgers was 4th.
Next to go were the combined under 15 and 17 boys and girls - totalling in four age groups competing at the same time for the spectators to enjoy.
The U15 boys were the latest team to get on the podium to collect their silver medals - just 13 seconds behind the eventual winners Cardiff. Dafydd Jones ran the third fastest leg of the category in 10:18 and he was joined up with his teammates Liam Edwards (10:26) and Jac Chapman (11:14)
There was strength in depth in the under 15 girls as there were two teams entered for the race. In a tight event, the A team came 4th and the B team came 7th. Leading the A team was Daisy Thompson as she ran the fourth fastest leg (11:11). Alongside her was Phoebe Davis (11:38) and Siwan Jones-Evans (12:57). Running next to them in the additional team were: Maddie Morgan (12:55) Beca Roberts (13:36) and Megan Jones (12:51)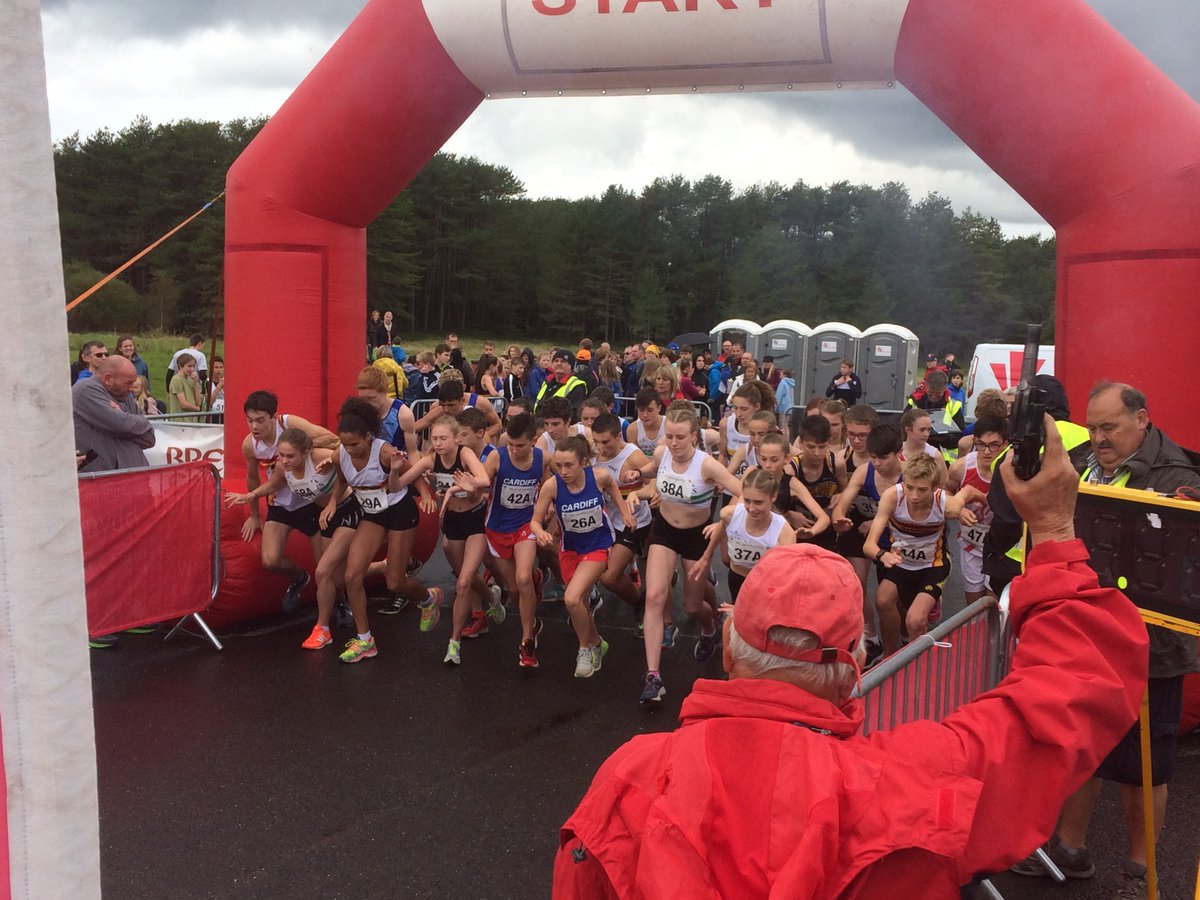 In the under 17 men's race, the trio of fastest leg Ben Thomas, Archi Morgan and Tomos Rees performed excellently to win silver, again behind winners from Newport. Their performances were: Thomas (9:37), Rees (9:48) and Morgan (10:16). Trystan Leech also part of this team ran 10:37 for the B team.
The under 17 women's trio just missed out on a team medal by coming in fourth. Thanks to the third fastest leg, Eva Edwards ran 11:52 with the remainder of the team being Grace Page (13:03) and Cerys Davies (13:03)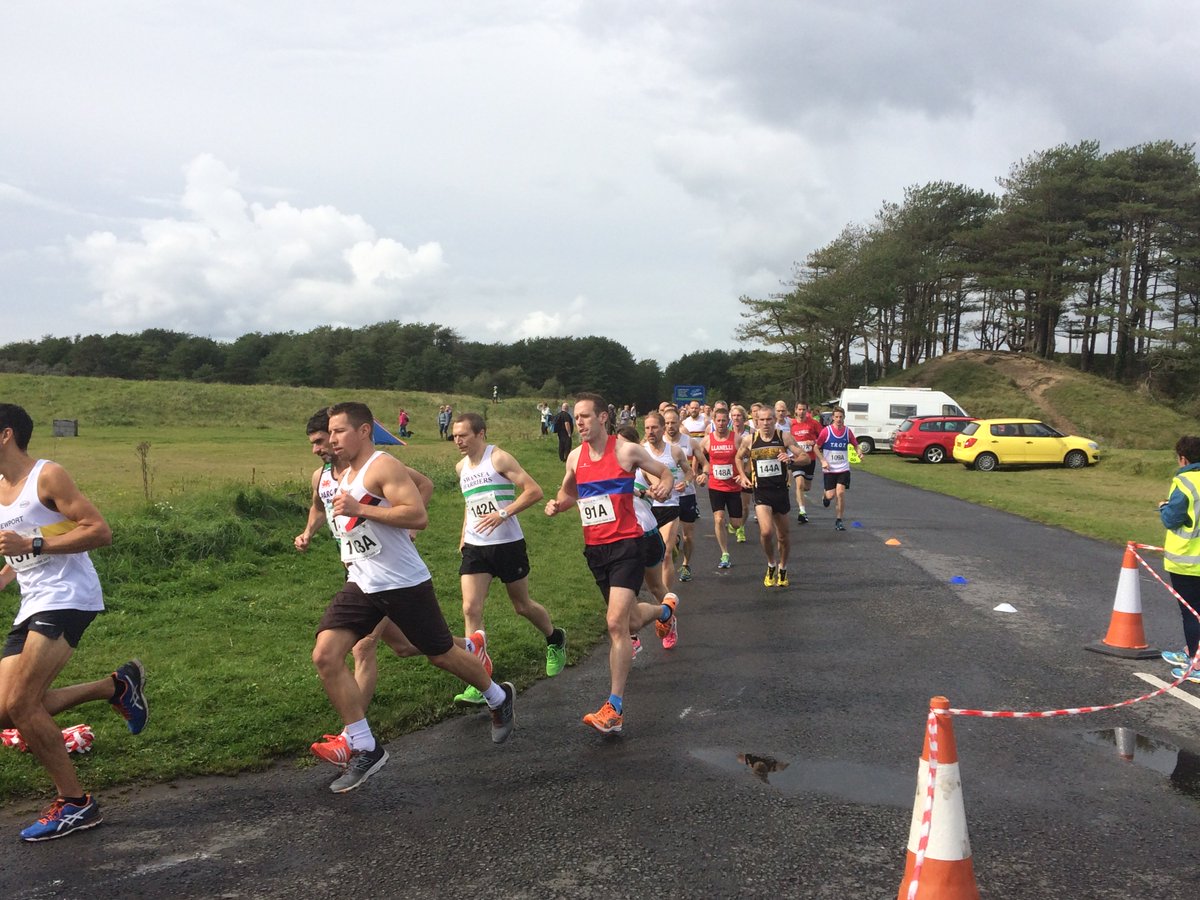 The final race of an exciting day was the senior and masters age groups - with over 50 teams running side by side on the roads of the park (and there were a few popular faces out on the course)
From a club view, it was great to see some Senior athletes representing the club this year, as that has not been the case over previous competitions. The best result of the day from the seniors point of view was the masters female 45 age group as they performed well to come second. Louise Jones-Evans (21:13) Elizabeth Davies (25:57) and Gill Edwards (25:14) were those successful and in addition, Jones-Evans won another gold medal for her fastest time.
Elsewhere, the master men 35 squad came agonisingly close to a space on the podium as they came fourth, only 14 seconds behind the bronze medalists. The trio involved were: Paul Clarke (17:34) Dafydd Bowen (20:39) and Jack Tremlett (16:49).
The masters men 45 team came sixth with an overall finish time of 64 minutes 19 seconds; Huw Davies (19:44) Peter Moody (23:05) and Gordon Orme (21:30) while David Jones was the sole runner for the senior men's team (16:42). The master women's 35 was also an incomplete team but there were good results for Elizabeth Tremlett (19:00) and Lisa Forest (24:42)
The Tremlett duo both secured fastest times in their respective categories.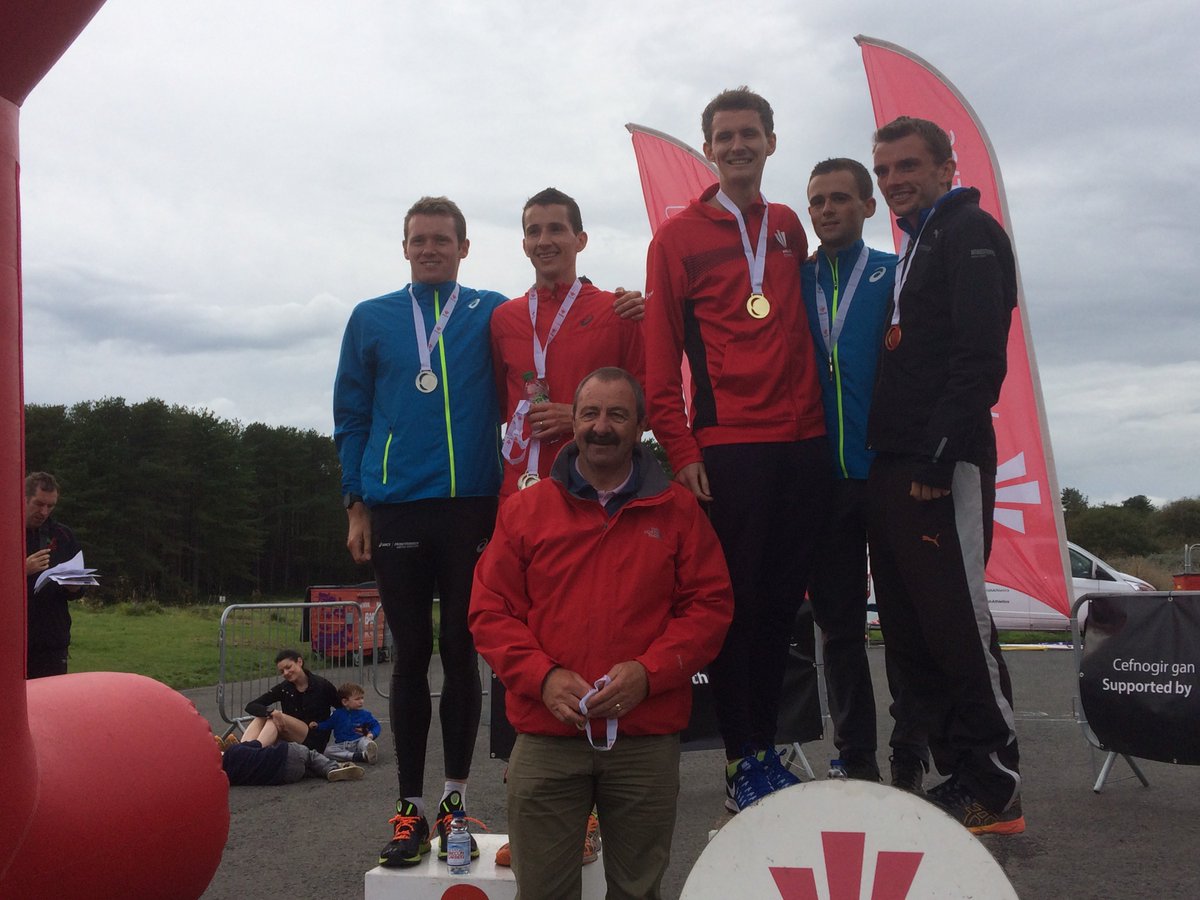 Last year's winners, Swansea Harriers were the pre-race favourites going into the main race and when Dewi Griffiths took full control on the first leg within 400m, there was no looking back as our West Wales friends comfortably retained their title won at Bargoed last year. Griffiths ran a quick time of 13:46 and it was no surprise to see him claim the overall quickest time for the former Harrier member. With great running also from Jon Hopkins (14:49) and Jonathan Tobin (14:54) it was left to another former athlete Josh Griffiths to lead the team home for an excellent win (14:27) and take the second quickest time in the process. Last year's runners up Cardiff AAC had to settle for third this time round, as a very strong turnout from the Swansea club also saw their B team come in second following Marc Hobbs, Jack Gooch, Liam Lloyd and Ian Harris' performances.
There was further success for the women's team as they also won for a successive year, easily from their rivals by nearly 7 minutes: Kate Roberts, Caryl Jones, Andrea Whitcombe and Alaw Beynon-Thomas. A great set of results for many of these upcoming stars, helped with a few wins in the master categories too.
All in all, it was another great day for Pembrey, Carmarthenshire County Council and Carmarthen Harriers. We look forward to working in conjunction again at the end of the year when the third Gwent league cross country meeting comes to Carmarthenshire on 3rd December. Many thanks to the big number of the volunteers, staff and officials who contributed towards a great day of road running.
FULL RESULTS / CANLYNIADAU LLAWN
ELSEWHERE...
British & Irish Mountain Championships @ Scotland - Saturday 16 September
A relatively inexperienced team from Wales headed up to Scotland to compete in Peeples on Saturday on what were, very tough up and down grass courses. Carmarthen, along with Delyth Brown being the team manager, had three athletes picked for the team - Iestyn Williams (23rd in the under 17 men), Ellie Kiff (21st in the under 20 women) and Thomas Jones (15th in the under 20 men) Well done all three.
In the overall team standings, Wales were placed 3rd behind England and Scotland respectively.
Pumpsaint Half Marathn Fun Run @ Pumpsaint - Sunday 17 September
On the same day as the opening West Glamorgan League at Llanmadoc, it was the Pumpsaint Half. It was another good days' work for Sharon Leech finishing 2nd female but 1st F45 home. Vince Bailey also in action came 10th in the V40 category. Also in the children's 1 mile fun run, Scott Price was the winner (5:43) and Jake Lynock in third (6:09)